INTERESTS
My passion is reading. I read all kinds of books, fiction and non fiction. Popular novels, literature, fluff (romance novels) and the back of the cornflake box if I have nothing else.

2002 - So many books, so little time... this year I have discovered some great British authors. Look out for:
The Best A Man Can Get - John O'Farrell
Man and Boy - Tony Parsons
One for my Baby - Tony Parsons
Mr. Commitment - Mike Gayle
Sushi for Beginners - Marian Keyes - in fact ALL Marians books are super!
I read some interesting books with the bookclub I was in at Agilent, among those were:
The Tortilla Curtain - T.C Boyle
The Color of Water - James McBride
Trans-sister Radio - Chris Bohjalian
Like many others I'm working my way through the Lord of the rings Trilogy. Not having read them as a kid, I'm really enjoying them now. AND the best part - the movie wasn't nearly as confusing (or disappointing that there was no "ending") as I had just read the book. We're anxiously awaiting the 2nd installment. also awaiting the 2nd Harry Potter movie... the first was great!
2000 - This is the book which really caught my imagination last year Angela's Ashes by Frank McCourt... amazing. Read it if you have not yet.
See also Favorite Web sites/ Links for my interests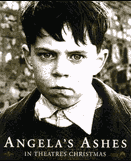 Some other great books I have read recently include:
The Diary of Bridget Jones - Helen Fielding
Bridget Jones - The Edge of Reason - Fielding
High Fidelity - Nick Hornby
Favorite Authors:
Joanna Trollope, E. AnnieProulx, Bill Bryson, Ann Rice, Jane Austen, John le Carre, Len Deighton, Diana Gabaldon, Roddy Doyle, and many many others.
I also enjoy sewing (amazingly enough, though I'm not good at it), yard work, planting flowers, playing on the internet, writing emails, cooking and wishing I had a fast car to drive!
I'm not very good at housework, I'm a terrible procrastinator. I hate poor spelling and bad pronunciation.